Home + Partners + Palo Alto Networks

Put Your Best Foot Forward with ZTNA 2.0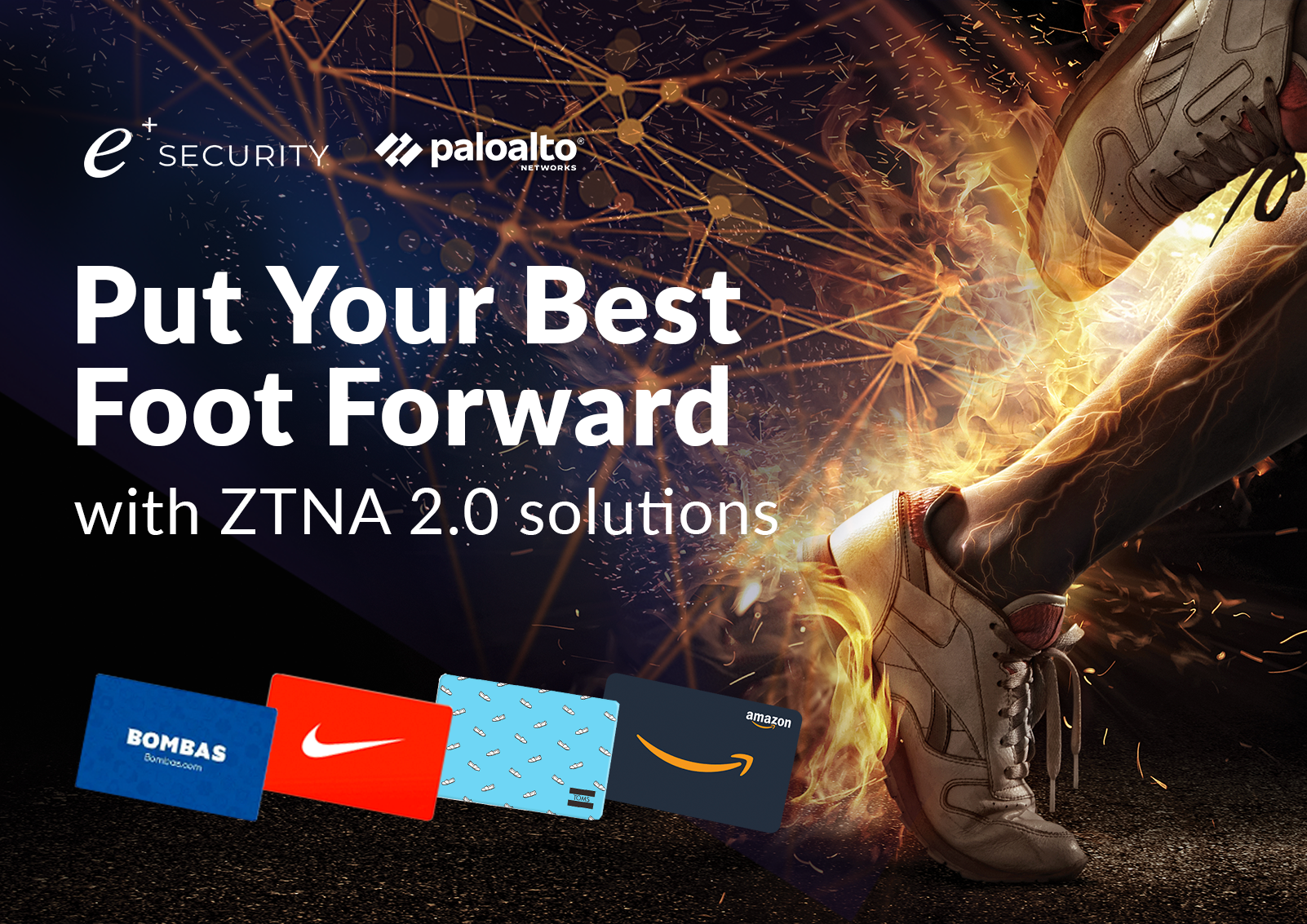 With ZTNA 2.0, you can enable the following:
Least-privileged access by providing precise access control at the app and sub-app levels.
Continuous trust verification even when there are changes in device posture, user behavior, and app behavior.
Continuous security inspection even for allowed connections to prevent all threats, including zero-day threats.
Protection for all data and consistent control across all apps used in the enterprise.
Security for all apps used across the enterprise, including modern cloud-native apps, legacy private apps, and SaaS apps.
Schedule a meeting today with an ePlus Security expert and get $250 in gift cards! >>

Secure the Cloud
Prisma helps you secure your journey to the cloud by providing the most comprehensive cloud security in the industry, protecting users, applications, and data regardless of where they are.
Prisma Access: Global expansion, mobile workforces, and cloud computing are changing the ways organizations implement and deploy applications. Prisma Access delivers a secure access service edge (SASE) that provides globally distributed networking and security to all your users and applications. Whether at branch offices or on the go, users connect to Prisma Access to safely access cloud and data center applications as well as the internet.
Prisma Cloud: The most comprehensive cloud native security platform, designed to protect all aspects of cloud usage with the industry's leading technology. Prisma Cloud provides broad security and compliance coverage for the entire cloud native technology stack, as well as applications and data throughout the entire application lifecycle, across multi-cloud and hybrid cloud environments.
Prisma SaaS: Delivers complete visibility and granular enforcement across all user, folder and file activity within sanctioned SaaS applications, providing detailed analysis and analytics on usage without requiring any additional hardware, software or network changes.
Secure the Enterprise
Prevent attacks with industry-defining enterprise security platforms. Tightly integrated innovations, cloud-delivered and easy to deploy and operate. Next-Generation Firewalls and Security Subscriptions from Palo Alto Networks provide true, complete visibility everywhere, along with precise policy control.
Next-Generation Firewalls: Palo Alto Networks Next-Generation Firewalls provide true, complete visibility everywhere, along with precise policy control.
Security Subscriptions: Our security subscriptions are natively integrated with our Next-Generation Firewalls to provide comprehensive security that's automated and driven by analytics.
The Most Secure SD-WAN for Every Branch; : Four ways to optimize security from HQ to the Branch

Secure the Future
The industry's most comprehensive product suite for security operations empowering enterprises with the best-in-class detection, investigation, automation and response capabilities.
Cortex XDR: The industry's only detection and response platform that runs on fully integrated endpoint, network, and cloud data.
Cortex XSOAR: A significant evolution of the Demisto® platform, Cortex XSOAR integrates threat intelligence management with playbook-driven enforcement across your enterprise so that customers can act on threat feeds with speed and confidence.